Park Love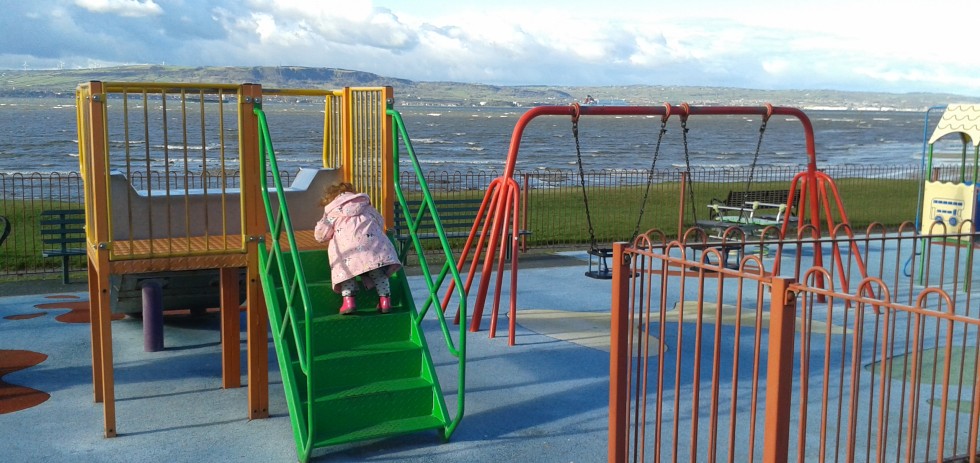 When the highlight of your week becomes the supermarket shop, you know it's time to find something else.
My children are 2 years old and 7 months old. Constructive, outside-the-house activities are fairly limited. By constructive I mean they can both 'join in', and that no other person or object is harmed in the process. The weekly supermarket shop is arguably a highlight, but one that leaves me soul-destroyed – one complaining fairly happily in the trolley seat, the other on the rampage rearranging the sanitary towel aisle (to be honest it's my favourite aisle because the catalyst isn't 'Frozen' branding).
Sometimes we go and rearrange the crayons and paper in the children's room at a museum; sometimes we go get very hot and bothered in a soft play area (please stop playing Rihanna and Bruno Mars?)
Our outings have taken a new and extremely constructive direction. We have discovered 'Seapark Recreation Area' in Holywood.
It's basically this:
a small outdoor children's playground
right next to Belfast Lough.
This means that you can
spend 40 minutes going up and down slides in a small, safe area and
spend the next 40 – 90 minutes on the neighbouring (4 minutes toddler-walk) beach.
And simultaneously:
gawp at the massive Stena Line ferries coming in and out and
hear and spot the aeroplanes coming in and out of nearby Belfast City Airport.
Additional benefits:
It's flat and the pathways between car-park, playground and seafront are excellent i.e. pram action totally possible (on our first visit I took the 7 month old in the sling – also doable but complicated when lifting 2 year old into a swing, and even more so when trying to drag the aforementioned back to the car)
It's free
It's beautiful. However blustery, however bone-chillingly cold, I feel an extraordinary sense of calm when I'm there. We are exposed, we are engulfed in the elements, and there's bigger picture stuff going on.
Most sensible people are walking their dogs. Toddlers and dogs are an amazing combination…
My eldest daughter lived her first years in a Danish kindergarten that was all about being outside – from 7 months she was in a fleecy playsuit in a sandpit and waterproof boots – rain or shine. She slept, bundled up, in a pram outdoors. Nature or nurture, she loves the outdoors – she does not feel the cold. Hat? Who really needs a hat?
There's an alarming and beautiful joy in her desire to plunge into the Northern Irish chill – she has no fear. And her sister, over-bundled in a fleecy playsuit, watches happily on from the pram – she can see the sea, the sand, the planes and the boats – what better view?
Practical information:
The park is 5-10 minutes outside of Belfast. I don't think the website does it justice:
www.discovernorthernireland.com
If you're keen for further activity the park is also a starting point for a serious walk: the North Down Coastal Path runs for 16 miles from Holywood to Portavoe, via Bangor – it's absolutely beautiful.