C.S. Lewis: icon of East Belfast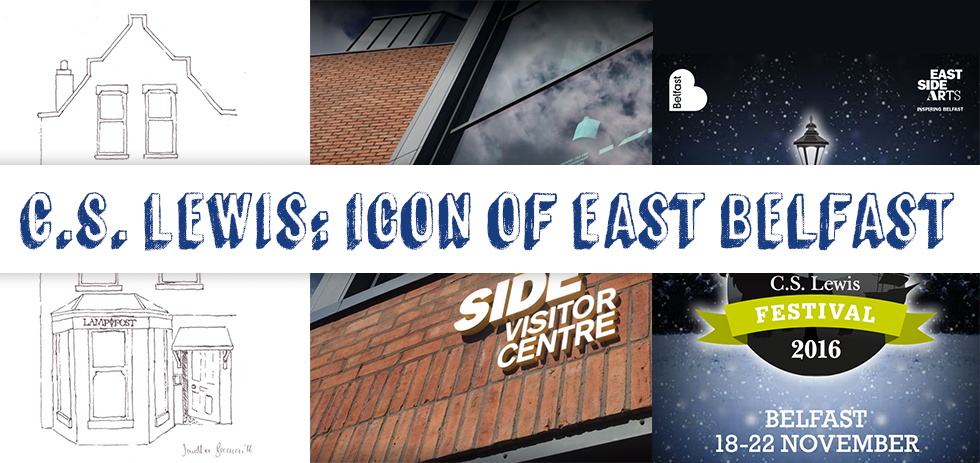 East Belfast has a number of cultural heroes. George Best and Van Morrison are perhaps the biggest household names. And as with any area pushing a culture and tourism agenda, there's no shortage of other named East Belfast connections – talented artists and personalities who were born, lived in or had important links with this part of town – E.M. Forster, Samuel Beckett, Christine Bleakley and… C.S. Lewis.
Before moving here I wasn't aware of the C.S. Lewis connection. Clive Staples Lewis – novelist, poet, academic perhaps best well known for his fiction 'The Chronicles of Narnia' – was born in Belfast in 1898, and the family home was in the Strandtown area of East Belfast. He spent many of his school years in England, but with a brief stint at Campbell College.
I write as the programme of the annual (November) C.S. Lewis festival has been announced – 5 days of events that showcase and revel in the author's work, his legacy and his 'strong connections to his childhood home of East Belfast'. There are many other ways to engage with the C.S. Lewis connection in East Belfast – I've offered a few below.
While C.S. Lewis is a key player in the cultural agenda of this part of town, there's a wealth of other cultural activity, some of it new, much of it here for decades. The recent openings of commercial contemporary art spaces: Framewerk (framers & exhibition programme) and ArtIsAnn (commercial gallery) are a fantastic sign of a healthy, growing scene.
Lamppost Café
Sample a slice of Narnia at the wonderful Lamppost Café that offers locally sourced coffee and food in a Narnia-themed decor. Van Morrison is a regular. Also programmes lots of themed nights and events celebrating local culture. As an independent business they have been facing tough times, not least as the road they are on is one of the one of the most excavated streets in the UK and tops a list of the most dug-up roads in Northern Ireland (a whopping 495 repairs took place between 2009 and November 2014).
Eastside Visitor Centre
This is like a tourist office, but better. You can't go in and book tickets to a musical, but you can:
get some great coffee and delicious food at Cafe Jack (the name by which C S Lewis was known to his friends)
Learn a bit more about East Belfast in a relaxed informal way – there are info boards, maps and screens, well-informed staff and a programme of events
Buy some great produce. My particular favourite are the Narnia inspired mugs by artist Stephen Farnan
Keep an eye out for seven sculptures due to appear on the C.S Lewis Square which the cafe overlooks. The sculptures, by Maurice Harron, will be inspired by characters from the Chronicles of Narnia and be a central feature of this much needed civic space.
C.S. Lewis Festival
The festival, run by Eastside Arts, is now in its fourth year. This year the dates are 18 – 22 November. See the full programme here: http://www.eastsidearts.net/event/cs-lewis-festival-2016
Artist Paul Moore
As part of the C.S. Lewis Festival Creative Exchange Studio Member Paul Moore has been producing different works in response to 'The Lion, The Witch and The Wardrobe'. For this edition he has created a unique document that references the literary aspect of the festival and looks at the changing face of the East. The document can be viewed at various local amenities, community and social venues throughout East Belfast during the festival.
For more information follow #nonarnia on Twitter.
Framewerk
Read our interview with Dawn of Framewerk.
ArtIsAnn
Husband and wife team Ann and Ken Bartley have been engaged in the arts for over 20 years and opened their dream project – a welcoming, commercial gallery – in 2016. As part of the C.S. Lewis festival they will be showing literary-based artworks by Fiona Lowe. Open Wednesday to Friday 11 -6 and on Saturdays 12 – 5. Visit www.artisann.org for further information.