First impressions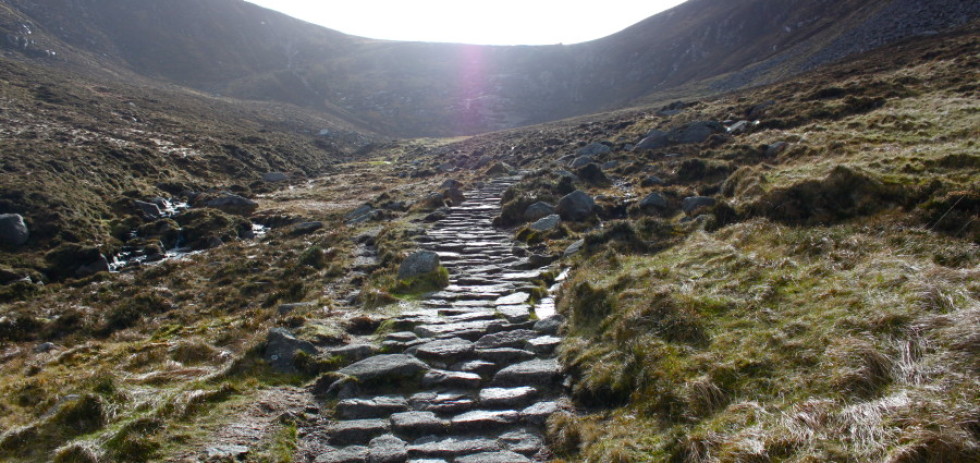 'Are you on holiday here?'
The gentle question jolted my alarmingly delicate sensibilities. It sliced in to two days of worry about being an English woman living in Northern Ireland. What if I say the wrong thing or use the wrong term? What if I never really understand the complexities of this society? Am I likely to offend someone?
Here but a week and already claiming otherness!  Why the nerves?
I have lived and worked in a number of different cities – London, Brussels, Paris, Rome, Amman, Oman, New York – and the feeling in Belfast is new –  one of being very close to 'home' and yet strangely far away.
The strongest sense now, two weeks later and on the other side of some self flagellating identity politics,is how much I love the FEEL of Belfast. I love the comfort and grandeur provided by the surrounding hills and the sense of openness from being so close to the sea. It's unlikely I'll tire of spotting the colossal twin yellow Harland & Wolff cranes, of watching the deliciously elegant titanium-clad spire of St. Anne's Cathedral disappearing into the heavy grey skies.  I love being so close to a beautiful coastline (dampened somewhat by paying £9 to walk along the Giant's Causeway), and discovering the things happening along it: a critically acclaimed seafood eatery/former lifeguard hut Harry's Shack, a contemporary music festival 'Atlantic Sessions' and the importance of golfing life.
Crossing the eerily beautiful Strangford Lough by ferry on a tempestuous Winter Sunday was unexpectedly moving, and for the first time in my life I am genuinely excited about buying waterproof kit and a thermos flask.
The gay cake row
But my concern about getting it wrong, about misunderstanding terms, labels and groups rises in discussion with a local business owner who mentioned that a controversial membership group had asked to use her services, and she didn't want anything to do with them.  The conversation naturally turned to the 'conscience clause', an alarming outcome  of the 'gay cake' row in which a bakery was taken to court, with the support of Northern Ireland's Equality Commission, for declining an order for a cake with a pro gay marriage slogan. The bakery was found guilty of discrimination on the grounds of sexual orientation and political opinion. In the wake of the row a Democratic Unionist Party assembly member attempted to introduce a clause into equality law that would allow businesses to refuse to provide some services if they clash with strongly held religious convictions.
While the business owner didn't necessarily approve of such a clause, she also felt stuck in her predicament. And it occurred to her that she was being tested. Her short term plan was to raise her prices. We discussed the alternative – did we want to live in a city where there were signs in the windows spelling out who can be served and on what grounds? Very definitely not.  Did we want government legislation dictating business client bases? Very definitely not.
With its potential to encase each person in the aggressive armour of a particular identity the conscience clause feels painfully backward-looking. And pretty scary. It's hard to imagine that it would ever be embraced by the majority of people here but understanding decision-making at political level still feels way above my pay grade.
Symbols and cakes
In a separate cake-related incident, Marks & Spencer's have recently been accused of mis-labelling. The packaging of their 'Taste of the British Isles' cake range recently drew a slew of complaints as they missed off Northern Ireland in the presentation of emblems – a rose for England,  a daffodil for Wales and a thistle for Scotland. Indignant politicians demanded apologies and requested inclusion of the shamrock. Hang on, the shamrock? But isn't that the symbol of (Southern) Ireland? No wonder M & S were confused.
Not part of the cake?
The extent to which Northern Ireland is not always a piece of the same cake is evident in in laws relating to abortion. In Northern Ireland abortion is defined as 'unlawful'. Abortions are banned except where the life or mental health of the mother is in danger. (The UK Abortion Act of 1967 has never applied here).  Amnesty International issued a report in 2015 that calls the laws relating to abortion 'draconian' and 'in significant breach of the UK's international human rights obligations'. An estimated 2,000 women from Northern Ireland circumvent this near outright ban by travelling to England and elsewhere in Europe for terminations. Bids to ease the laws are continually voted down.
It is unlikely however that this flagrant abuse of power will dampen public opinion and the efforts of citizens … Let's hope that the politicians will catch up.
Let them eat cake
Northern Ireland is the only part of the UK where gay marriage is not legal (it has been debated and rejected 4 times in the Assembly).  And it stands in sharp contrast to the rest of Ireland –  earlier this year we watched Dublin dazzle with a major celebration of LGBT rights, embracing its status as the first country in the world to legalise same sex marriage by popular vote. Across the border, while the opinion polls were positive, and the legislative assembly voted to approve gay marriage, the Democratic Unionist Party invoked the 'petition of concern' clause and thus brought the reform to a halt.
The 'petition of concern' clause was created during the peace agreement and allows unionist and nationalist parties to claim a bill or a piece of legislation cannot pass through the devolved assembly because it fails to command cross-community/Protestant-Catholic support.
It is unlikely however that this flagrant abuse of power will dampen public opinion and the efforts of citizens – last year two Northern Irish couples won permission to challenge the ban on same-sex marriage by way of judicial review. Let's hope that the politicians will catch up.
You can't have your cake and eat it?
And while breastfeeding in public is not legislated against yet, a recent Department of Health survey on doing the deed in public was reported on with a slurry of alarming adjectives. The headline: 'Do you find breastfeeding in public offensive' with the sub-heading '13% of people in Northern Ireland say it is embarrassing' swiftly backed up by '4%  of people in Northern Ireland have said they find breastfeeding offensive and distasteful' didn't leave much space for the majority nor the positive! And while initiatives to support breastfeeding are to be embraced, one cited in the Belfast Telegraph that encourages businesses to use a 'Breastfeeding Welcome Here' sign, is potentially yet another example of starting to label our existence. By the time we have understood where we are allowed to feed a baby, to buy a service or a product, the baby won't be hungry anymore, the birthday will have been missed and there'll be a line-up of offended people.
Absolutely delicious
That there is world-class stuff in hidden corners is not a surprise. An ex linen mill in East Belfast is home to a sumptuously beautiful mens' clothing store 'The Bureau'. I could have spent hours nestled in one of their enormous leather sofas surveying their fine clothes from collections across the world. I'm not the only one. While their client base is predominantly online, customers make long pilgrimages to come and see them.
While much of the linen and textile industry has disappeared from Belfast, there are some gems that seem to be doing very well. Mourne Textiles produces stunningly elegant homeware, embracing techniques and design passed down over generations – understated and of the highest quality.
Belfast's new (2012) Metropolitan Arts Centre (The MAC) was one of six UK museums to have been shortlisted for the prestigious Art Fund Prize for Museum of the Year 2015. Belfast-based artist Seamus Harahan has recently won the influential Jarman Award that recognises and supports artists working with moving image. Online contemporary arts publisher Collected Magazine relishes internationalism, independently published Freckle is a beautiful print magazine celebrating life and living in Northern Ireland through evocative stories and sumptuous photography. 2015 saw Belfast holding its first Design Week, curated by a group The Design Salon also responsible for the production of a very useful map of the city's best design talent  'Another Belfast'.  Northern Irish boy JW Anderson, multi-award winning creative director of 2 fashion brands continues to make headlines, with most commentary reflecting on the prolific nature of his work, his innovate approach to menswear and his 'fiercely competitive streak'.
I feel fiercely competitive. About not being on holiday in Northern Ireland.
Links
To Visit:
To Shop:
To read: