A Belfast Blog meets: Dawn Richardson, Framewerk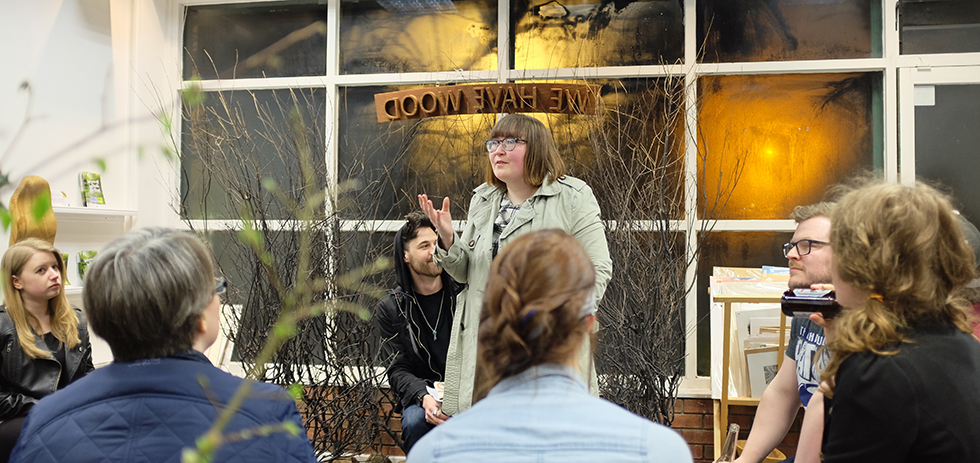 A Belfast Blog had a chat with Dawn Richardson who owns and runs independent gallery space and framing service Framewerk. As well as offering a highly skilled creative frame making service and curating a busy exhibition schedule, Dawn also runs many other events e.g. a pop-up record shop, art classes, 'Drink and Draw' (byob combined with life-drawing) at which there is a real sense of local artists and writers coming together for a shared purpose – for 'art that has intellectual and aesthetic merit'.
How would you describe Belfast, to someone who has never visited?
Melancholic, disloyal, under-rated. Brutal. Forgiving. Good.
I have moved house 28 times in my life.
Home is where my Mum's dog is.
If there's one thing someone visiting should see/do/read this year – what would it be?
See: Any exhibition that Catalyst, Platform, Outburst Festival and The Golden Thread put out. Try to go to an event at SARC. The Sonic Artists in this town are off the richter.
Do: Put pressure on Stormont so women can have the ability to choose what happens to their own body in Northern Ireland, like they do in your country.
Read: For Stuart, who accidentally obtained a job in the Civil Service. Leontia Flynn.
Hear: Belfast Music Club, Dirty Talk, Girls Names, Documenta, Gross Net, David Holmes, Die Hexen, Ruth Bates and Sea Pinks. Any release from Touch Sensitive Records and Satsumas Home Entertainments.
Do you have a favourite place (in Belfast)?
The Black Box.
The Sunflower.
Sick Records.
Dragon Records.
Platform Arts.
Catalyst.
The Golden Thread. Run by beautiful, kind people trying to do something in this world without being trite.
Where do you consider home? And why? What do you need to have / feel to consider a place home?
I have moved house 28 times in my life. Home is where my Mum's dog is.
What are you working on right now?
A collaborative 'zine called 'Container' and an exhibition to coincide with 'Imagine' Ideas and Politics Festival. Immigration. You know.
I'm also trying to perfect my McAlmont and Butler 'Yes' tribute. It's pretty good. Smooth groove.
What led you to decide to set up Framewerk?
Fear, boredom and apathy. An unfortunate social conscience and pre thirty mid-life crisis. Procreation; but not as you know it.
Why the name 'Framewerk'?
It was an obtuse decision suiting a brutal aesthetic. A logo based comment on the structuralism of Kraftwerk having more of a kinship to architecture and form rather than music. Framing, in this case, being the power station to the Art.
Was the location an important factor in choosing the gallery space?
It was cheaper than other main arterial routes. Cheaper and not fully gentrified. A mixture of being lawless and under the thumb of religious partition, which appealed to my sense of the contrary and want to fill a vacuous cultural hole (maybe). The place smelled of chips. That was about 70% of it. What are you most proud of about Framewerk? Showing Art without commercial cynicism and edging ever further away from the dole role. Refusing to be made feel inadequate in a male oriented business owing to the ownership of a vagina. Supporting a network of Artists and Writers and providing a platform for them to show work without Government involvement.
What is Framewerk's most effective promotional technique?
Taking to the streets, bothering everybody.