Sinclair Seamen's Church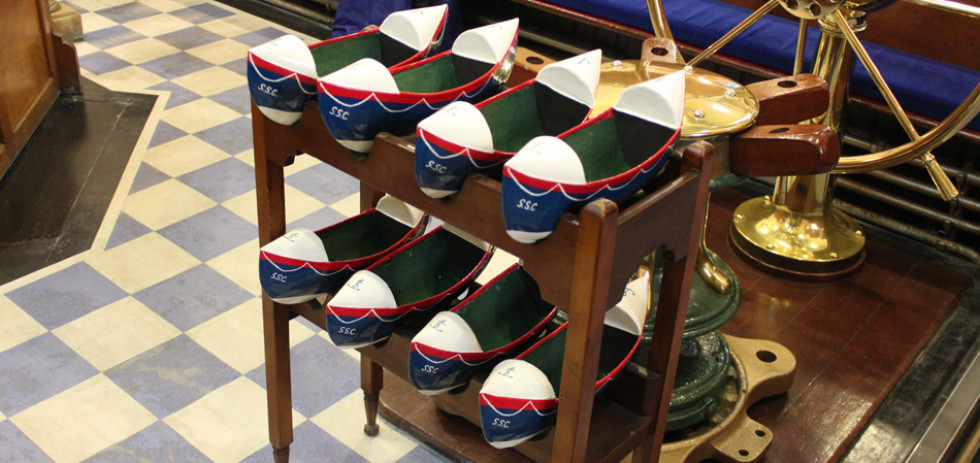 The Rough Guide to Ireland's section on Belfast has an entry for a curious church in the docklands area, situated more or less on the quay opposite the Odyssey arena. The entry invites readers to head down Dongell Quay, if the sea air is "twitching your nose", towards the ferry terminal buildings and an unusual little church called the 'Sinclair Seamen's Church'. Last Wednesday, in the pouring rain, I decided to make the trip.
Perhaps the most unusual feature is the pulpit – designed to look like the prow of a ship
Dating from 1857, the church is fairly unassuming from the outside – you have to enter (visits Wednesdays, 14:00 – 17:00) to see its real treasures, all on a maritime theme. The day I visited, I was met by the Reverend, who was expecting the organist, and he kindly gave me a tour of the building. A binnacle, a ship's wheel, a bell from the HMS Hood, the mast of a boat once used to ferry Guinness up and down Dublin's Liffey, and various other nautical equipment fill this maritime church – even the collection plates are in the shape of lifeboats. Everything is beautifully maintained.
Moby Dick and the Sinclair Seamen's Church
Perhaps the most unusual feature is the pulpit. It is designed to look like the prow of a ship. The image of Orson Welles climbing up his rope ladder into the prow shaped pulpit in John Huston's film version of Moby Dick immediately sprang to mind, because this is my only reference point for a pulpit of this type (I was also reminded of the wonderful Schiffergesellschaft in Lübeck, in former East Germany). Apparently I wasn't the only one to be reminded of Orson's sermon – the Reverend told me they had recently hosted a screening Moby Dick in the church.
You can find out more the Sinclair Seamen's Church on the Virtual Visit Northern Ireland site, but of course the best way to experience it is in person. And so, the next time the wind is howling and the rain is horizontal, why not venture down this way, I'm sure you'll enjoy it. I will be this way again – I've heard great things about the Rotterdam Bar in nearby Sailortown although I fear it may already be closed for good.