A Belfast Blog meets Adam Frew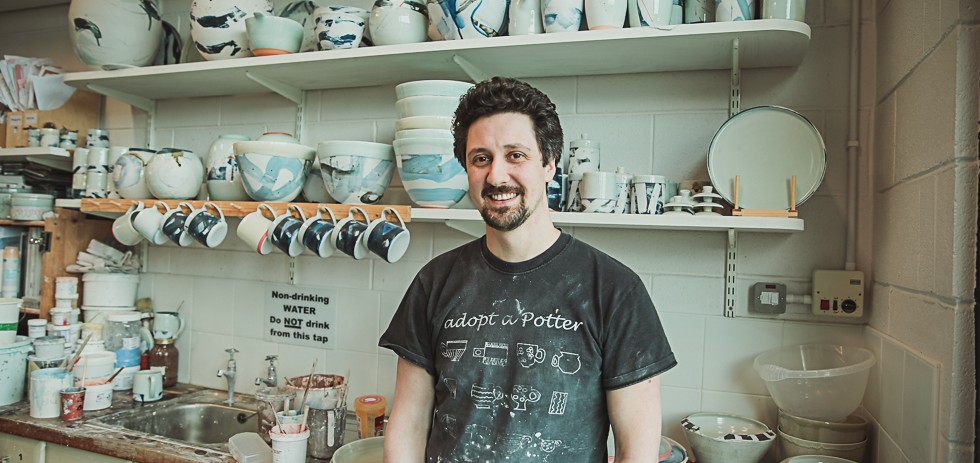 Adam Frew is a talented potter and ceramic artist based on Ireland's north coast. His work ranges from exhibition pieces and large pots to functional items intended for everyday use.
Since speaking with Adam Frew, he has channelled the funds from a successful Kickstarter campaign into finishing his home studio which opened during August's 'Craft Month' (2018). When we interviewed Adam before the summer he was already outgrowing his studio in the Flowerfield Art Centre in Portstewart (of which he speaks very highly) spilling out into the corridors and neighbouring studio. Having this year taken on an apprentice (Jack McGonigle) Adam told us he was finding more time to focus on new ideas – developing his one-off pieces and a 'chance to play'.
Adam Frew – what are you working on?
I've got three exhibitions this month – I'm showing all over the place, from Munich to Nottingham. It's going well. That's why an extra pair of hands is good with Jack here. We were awarded the QEST [Queen Elizabeth Scholarship Trust] Apprenticeship award – we went over to London for an interview, and we got through. It's a really good scheme to be involved with. And it's great to have Jack here, helping me out because business is actually really taking off – I'm busy!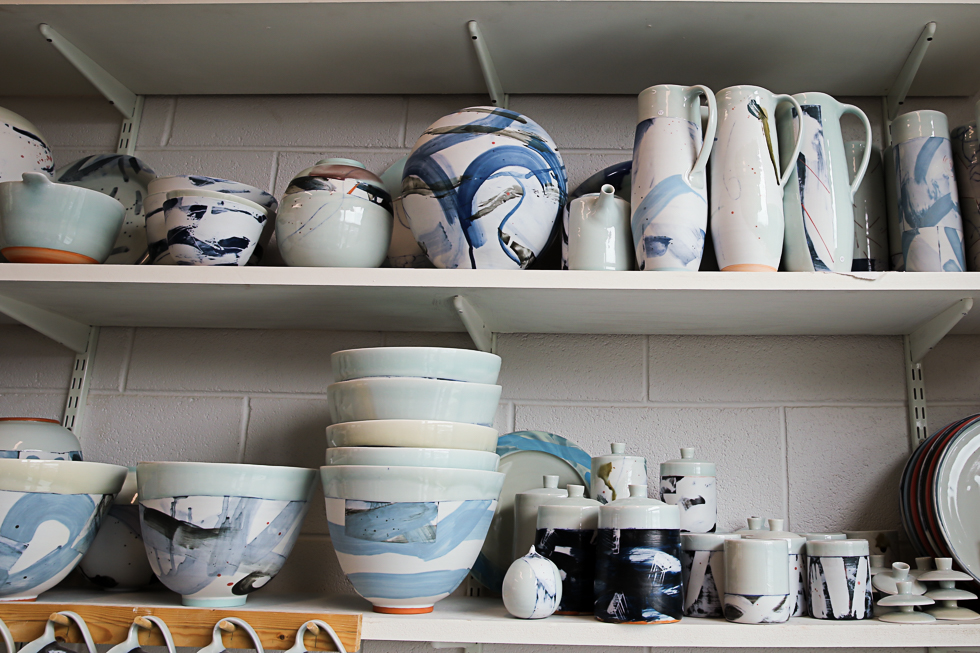 You say business is taking off – has it taken long to get to this stage?
Well, I've been at it for 11 years. I studied ceramics in Belfast graduating from there in 2004. I took a year out and worked in a traditional pottery in England – making brown pots – then went on to work for a small production pottery in Finland. When I finished university, I built a wood-fired kiln in a friend's garden and started making work but I didn't really know how to get myself out there and promote 'Adam Frew'. Basically, I found myself struggling. I didn't really realise how hard setting up would be but I knew I definitely wanted to be a potter. I decided I needed more experience and to learn a bit more about the business side of things, so I did a two-year apprenticeship with a lady in London. I spent two years there just shadowing her, doing exhibitions and shows. I really learned how to get myself out there and start my own business back home. I now realise I can be based anywhere and my work can then sell anywhere around the world. I don't need to be in a specific place, like London. So it's taken a bit of time, just building it up. But I've never actually gone after any business. My work has been spotted here and there and it's just kind of gone from there. To be honest, I've not got a really good business head on me, I've always just gone with the flow, I've never really thought too much what I'm doing too much or how it's going to work because I think if I did that I'd panic and I'd give up! I suppose I've only really got more serious since I've bought my house and we've had a little girl, so I'm more about trying to get the proper amount of money that I think my pots deserve. I feel that it's important that the hard work I put into my work is recognised. For me this is serious: it's my business and my livelihood.
I don't have any mass produced tableware in my house, it's all handmade, even the cupboards, that's what we use every day, and that's a nice thing to be able to do I think.
Regarding your return to Northern Ireland and diving into this as a career – was there any support? For example, from government agencies?
There was a programme, which is not running any more, called 'Making It' [a business incubation programme]. It was a 2-year set-up and you received funding. This enabled me to spend those two years just developing my work. It was a good period for me because it takes time to develop a product so I had that time to play and not worry financially so much. I used to do a lot of teaching as well, but not so much now because I find I'm busy making and selling my work.
So why Portstewart?
Having lived in London for a couple of years, I just liked the idea of being out of the city and somewhere by the sea, somewhere idyllically beautiful and Portstewart came to mind – but also, this was where many of the host organisations in the 'Making It' programme were based. The Flowerfield Centre has good facilities, it has kilns for me to get going without buying all that equipment. Also Flowerfield has a reputation for top crafts.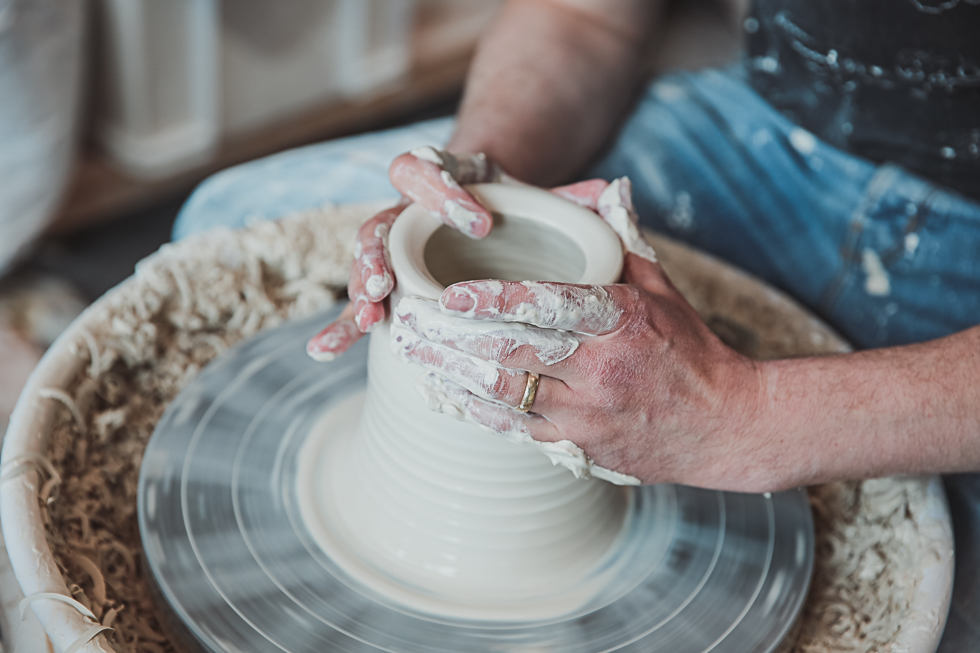 Did you find that your style changed when you came back – for example, being by the sea, does the landscape influence you in any way?
Yes, definitely, any place I've been living, be it England or Finland or elsewhere, my works been quite different in those different places . Having spent two years working for someone else it definitely took me a while to start making my own work and putting my own stamp on it. I like using porcelain, I love working with porcelain, it's a lovely material, it's silky and smooth. It's not very forgiving at time, you really need to treat it well, take care of it through the various different stages of making… Any slight error will be noticeable in the firing, whereas stoneware, or earthenware maybe you'd get away with a lot more, but porcelain doesn't let you away with anything because it's a white ground to start decorating, it's a base start, I'm not really into translucency or anything like that, I just like the whiteness of it and the colour you get from it. I've always been into painting, and when I was at art college and started working with clay, learning how to throw etc., I'd usually be drawing on the pots and stuff, using it as a surface to be decorated. I've almost come back full circle to how I used to do it.
Sometimes they're quiet, sometimes they're busy, it's hard sometimes to know when to stop. I'm striving towards my personal perfection in something and constantly developing.
Recently you had a commission from a restaurantand you made a whole series of plates. Could you tell us more?
I bumped into a chef [Paul Dalrymple from Sleepy Hollow Restaurant Newtownabbey] at a show and he had a ceramic background. I was really excited about that, because I've always wanted to work with a restaurant. My pots are functional, that's the exciting part of it when you get food to match the plate or whatever, or you make specific dishes to go with specific foods. We came up with an idea we called 'Plate Date'. It was a five-course meal, with wine with each course, and I made 100 plates for the event and it was ticketed, so there were only 30 people. I went around introducing myself to the guests: 'Hi, I'm Adam Frew…'. It almost felt a bit like a wedding! It was really lovely and I think it would be great to do something like that again. It was brilliant to see my work coming at you with food on it. It's all very well going into an exhibition, and the work just sits there, but it was wonderful to see my works being used and therefore fulfilled.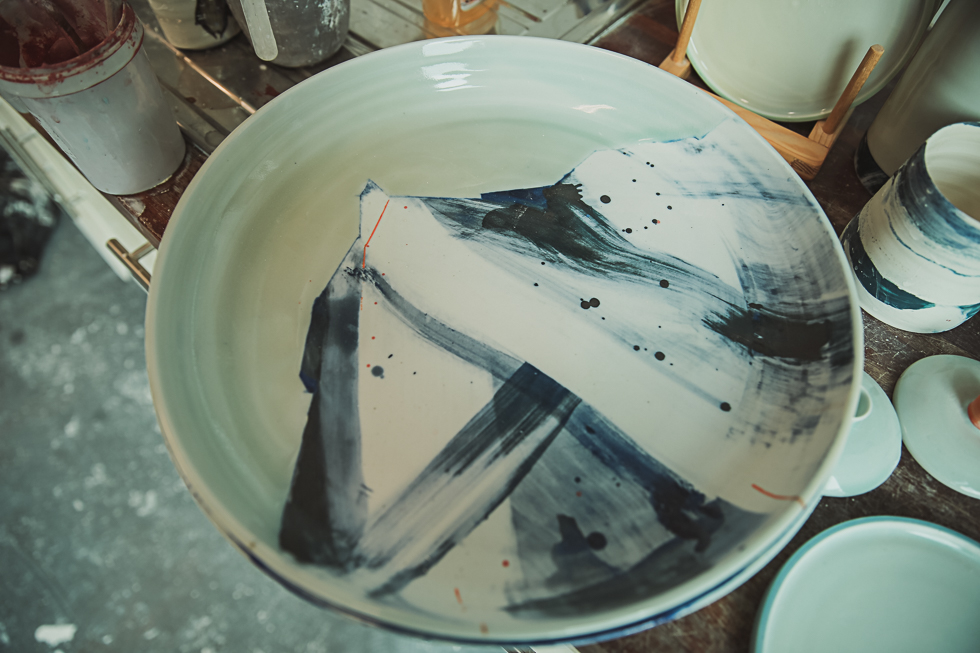 When designing your pots, do you draw a distinction between works specifically for exhibitions and for functional use?
Well my bigger pieces don't really have a function; they're just purely to do with my interest in decoration. Expressive marks, and journeys of mark-making, I'm inspired by the last piece, that's what inspires you… I suppose I'm inspired by my surroundings but probably more inspired by what I'm making, and trying new things.
Tell us more about your process
At the moment I'm playing about with taking things off and making different patterns and a lot of my things are painted on but then wiped back to create interesting effects. I love making pots with volume. Sometimes times the ideas for my more functional pieces then make it into the bigger pieces. Someimes I mask areas off with tape or wax to create little paintings within paintings. Generally, I like playing about with things like that – knocking around, and having an apprentice has given me the time to develop my one-off pieces. I just find that these last few months I've had that chance to play. The studio is really busy, and when I'm on my own it's just keeping up with things and I get little time to play, but I find I'm getting more of a chance now and that's really exciting. My work is developing that bit quicker. You can see these coloured feet I'm adding, that's just stained porcelain, and those little details I love, this mint clay as well, sometimes you're scratching into things, and filling in with colour. I like the idea of soft scratchy lines with sharp lines and painterly patterns and blurring things and wiping things back, it's just mucking about with, I suppose it's quite Abstract Expression-istic, if that's a word! Dripping, and flicks of colour. Sometimes they're quiet, sometimes they're busy, it's hard sometimes to know when to stop. I'm striving towards my personal perfection in something and constantly developing.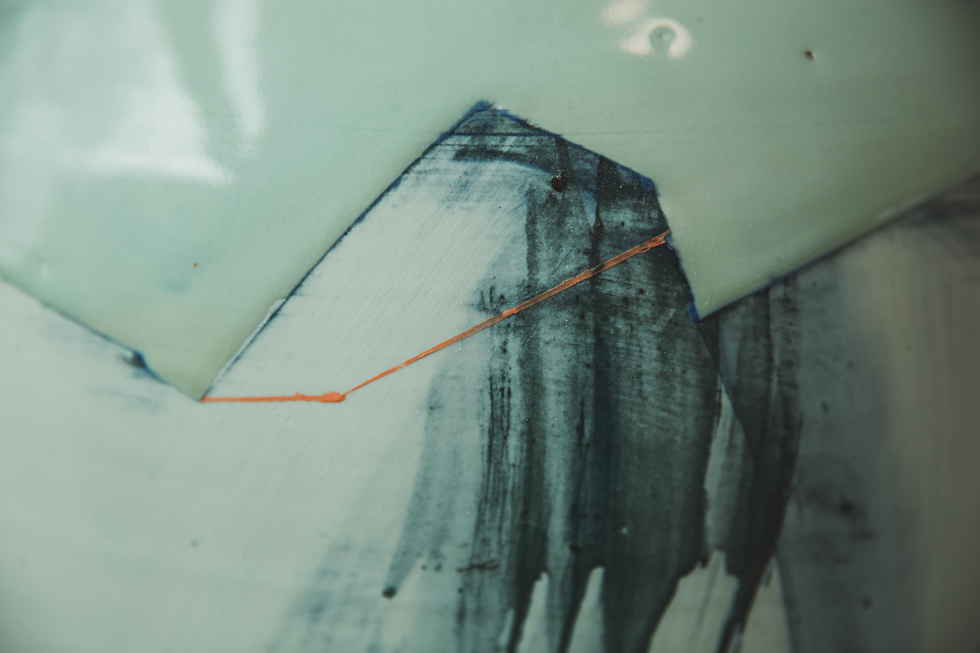 Do you use your own stuff at home?
No, I have to sell them! But I do have other makers' things, and I like having those about the house, I don't have any mass produced tableware in my house, it's all handmade, even the cupboards, that's what we use every day, and that's a nice thing to be able to do I think. I hope I'm making nice things for people to use – I certainly get that enjoyment out of using other peoples things. I also get excited by people enjoying my work and the feedback that I get for what I'm doing. It just makes it feel all worthwhile.
Thanks to Adam Frew. Thanks also to honorary A Belfast Blog member Caraigh McGregor who put us in touch with Adam Frew and assisted with the interview.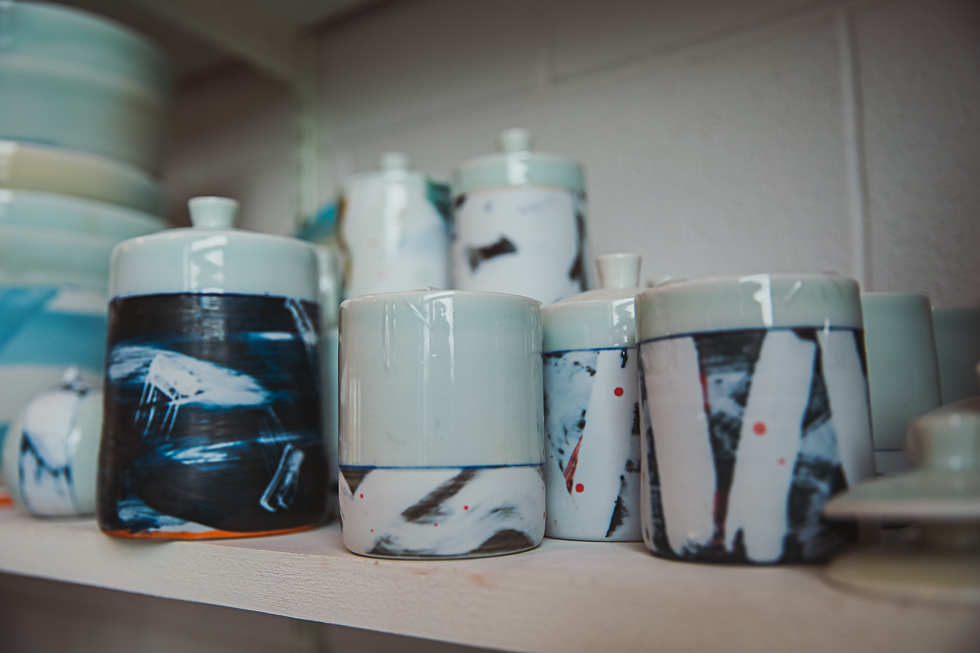 Links